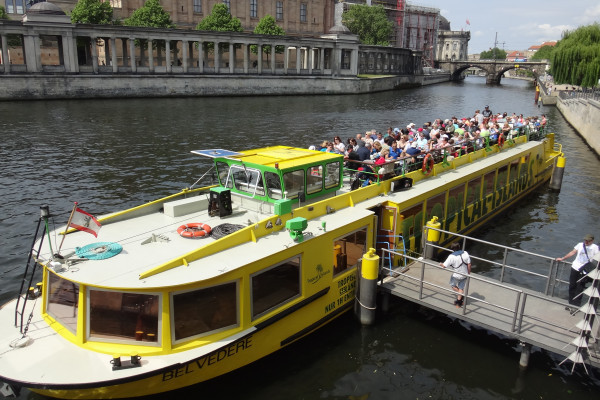 Our East Side Tour on the River Spree along the east side of Berlin. We start at Hackescher Markt, move through the Nikolaiviertel further to the East Side Gallery and then take course to the government district. Guided tour English & German. 



Berliner Dom, Stadtschloß/Humboldtforum, Mühlendammschleuse, East-Side-Gallery, MBA-Arena, Oberbaumbrücke, Osthafen, Badeschiff, Molekule Men, Nikolaiviertel, Museumsinsel
Schiffbauerdamm, Tränenpalast, Parlaments- und Regierungsviertel mit Reichstagsgebäude
Berliner Hauptbahnhof, Bundeskanzleramt, Haus der Kulturen der Welt
| | |
| --- | --- |
| Included | 150 minutes guided ship tour, German & English, more languages with audio guide |
| Not included | Gastronomic services; however, can be purchased on board |
| Bring along | Negativer Corona-Testnachweis (max. 24h alt) oder vollständigen Impfnachweis oder Genesungsnachweis |
| Participants | 60 |
| Important information | Please report to ticket sales with a ticket printout or QR code on your smartphone before starting your journey.Requirement for traveling with you: FFP2 or medical mask, negative corona test certificate (max. 24 hours old) or complete proof of vaccination or proof of recoveryPlease 15 minutes before departure of the ship at the landing stage "Alte Börse / Hackescher Markt", in 10178 Berlin, Burgstrasse opposite. No. 27 to be. (3 minutes on foot from the Hackescher Markt S-Bahn station). If you arrive later, you are NOT guaranteed to be taken at the booked departure time. Sections of the route can be booked for this tour. Boarding for section "EastSideGallery" NOT "Alte Börse" but East-Side-Gallery / Ostbahnhof, access via Mühlendamm 60, 10243 Berlin, near S-Bahn station Ostbahnhof! |
Further information
EAST-SIDE-TOUR – der Name ist Programm. Neben vielen Veränderungen im Zentrum Berlins, zeigt diese Fahrt die jüngsten Entwicklungen entlang der East-Side-Gallery im Osten der Stadt. Nach der "Wiege Berlins", der Mühlendammschleuse, führt die Tour vorbei am Berliner Ostbahnhof und der Mercedes-Benz-Arena, unter der Oberbaumbrücke hindurch in den Osthafen mit vielen, neuen "Mietern" wie z.B. Universal, MTV, Coca-Cola und dem Badeschiff an der Arena Treptow. Vor Alt-Stralau wendet das Schiff und es geht an den Molecule-Men vorbei, zurück in die Mitte Berlins. An der Anlegstelle "East-Side-Gallery/Ostbahnhof" erfolgt ca. 16:00 Uhr ein Zwischenstopp. Hier besteht die Möglichkeit zum Ein- und Ausstieg. Nach der Mühlendammschleuse gleitet das Schiff vorbei am Nikolaiviertel, am neuen Stadtschloß /Humboldtforum und am Berliner Dom. Hier beginnt die Museumsinsel, das museale Weltkulturerbe Berlins. Zu sehen sind Pergamon-, Bode-, Altes und Neues Museum sowie die Alte Nationalgalerie. Mit dem Unterqueren der Weidendammer Brücke beginnt das Viertel rund um die Friedrichstraße. Nahtlos schließt sich das Regierungsviertel mit den Parlamentsgebäuden des Bundestages, dem Deutschen Reichstag, Ministerien und dem Bundeskanzleramt an. Nach einer erneuten Wende vor dem Schloß Bellevue, geht es zurück zum Anleger "Alte Börse/Hackescher Markt". 2,5 Stunden Entspannung pur, mit fachkundige Erklärungen in Deutsch und Englisch. Auf Wunsch können gastronomische Leistungen an Bord bestellt werden.
know betterbook bettergo better
TripAdvisor Traveler Rating
31 Reviews